Download UMT/UMTPro Ultimate UMT UniSoc Latest Setup V.02 New Update For Only Spredtrum (SPD) CPU Phone.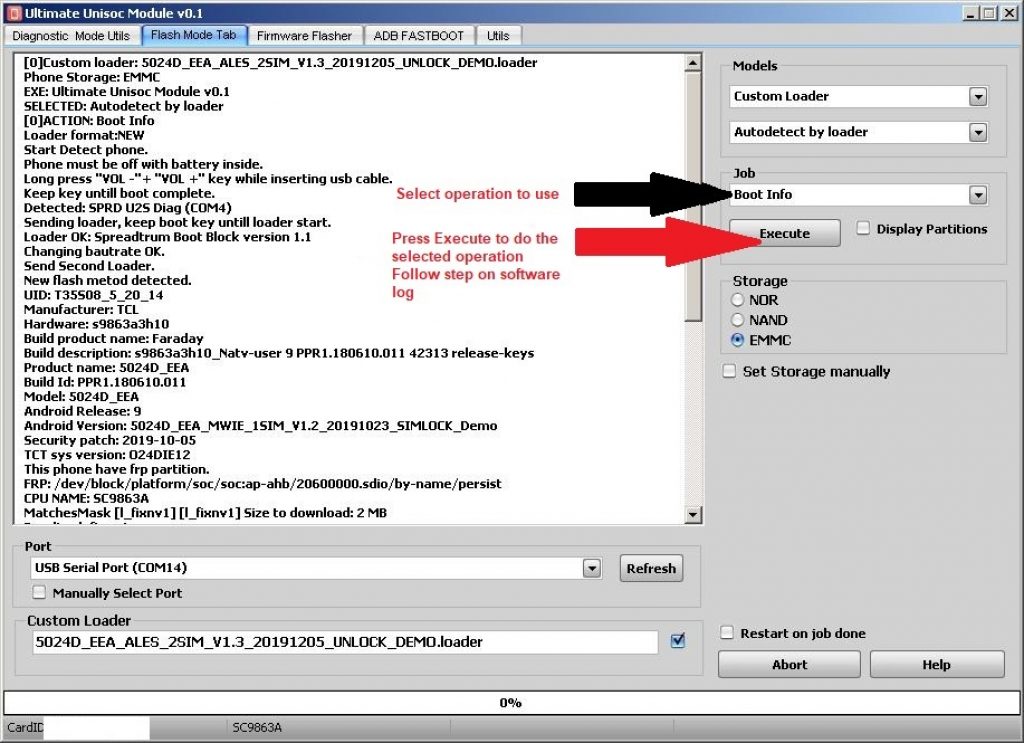 UMTv2 / UMT Pro / NCK Pro Ultimate SPRD Unisoc Module v0.1
SPRD – Unisoc supported Processors
SC6530
SC6531
SC6531E
SC7701
SC7702
SC7703
SC7731G
SC7720EA
SC7731C
SC7731E
SC9863A
SC9820E
SC9832E
SC9830A
SC9850KA
For these CPUs these operations only supported:
SC6530
SC6531
Operations: Read full, write full, format efs, backup NVRAM, restore NVRAM, read privacy code, write PAC firmware.
SC6531e
Operations: Boot info, write PAC firmware, read privacy code, factory reset phone (diag mode)
Features
Boot Info
Read Privacy code
Read Firmware
Write Firmware
Backup NVRAM
Restore NVRAM
Backup Security
Restore Security
Write Original Pac Firmware
FRP Remove
Factory Reset
Make Custom Loader – (Which Makes this tool Universal and Supports Mostly ALL Phones).
Details about reading Write firmware:
Read phone info: In flash mode and Diagnostic mode.
Write factory PAC file: Supported all phones except phones which ask for server auth.
Read firmware: Supported for now SC7731E, SC9863A, SC9820E, SC9832E CPU, (more will be added soon).
Write firmware that is read from the phone for supported CPU.
Custom Loader info:
Users can make their own custom loader using phone firmware and service unsupported yet phones.
Using this method supports most phones in the current market (does not support phones what ask for server auth)
Very Important:
To read firmware user must select phone from list or use compatible custom loader.
— Reading firmware using unsupported model, can give unpredictable result.
Supported Listed Models Listed and Custom Loader:
Alcatel
OT-4024D
OT-4024E
OT-4024X
ORANGE Iplus K06
OT-5003D
OT-5003X
OT-5024D
OT-5024X
OT-5024J
OT-5024I
OT-5024A
OT-5024F
OT-5124J
OT-5001J
OT-5001D
OT-5001U
OT-5001A
OT-5101A
OT-5001T
OT-5101J
OT-5030F
OT-5030D
OT-5030X
OT-5030 (A,D,F)
Amigoo
Amigoo R8
Archos
Archos 40 Neon
Archos 40 Power
Archos 40d Titanium
Archos 55 Platinum
Archos 50d Neon
Archos 50c Neon
Archos Core 55S Ultra
Archos Oxygen 57
Bmobile
Bmobile AX1016
Blu
Blu BOLD C2
Blu C5L
Blu C6 2019
Blu G5
Blu G8
Blu G5 Plus
Blu G6
Blu G60
Blu U851
Blu L5
Condor
Condor Griffe T1 (SP413)
Condor Griffe T2
Condor T3
Condor Griffe T3 (SP-414)
Condor G4s (PHQ519)
Condor T1 (SP413)
Condor Griffe T8 (SP-532)
Condor T9 (SP648)
Condor Griffe T9
Condor F-senior
Condor f-trios (pfs 207)
Hisense
Hisense U962
Hisense U601
Hisense U40 HLTE103E
HiSense U972
INOI
INOI 2 2021
INOI 2 Lite 2021
INOI 5 2021
INOI 5 Lite 2021
INOI 7 2020
INOI 241
INOI 106Z
INOI_246Z
INOI 281
Itel
Itel 2180
Itel A14
Itel A16
Itel A16 Plus
Itel A25 Pro (L5002P)
Itel A36 (W5505)
Itel A44 Power
Itel A47 (L5505)
Itel A55 (W6003)
Itel A56 PRO (W6004P)
Itel Alpha Lite (W5008)
Itel P33 Plus (W6001)
Itel Prime 4
Itel Vision 1 Plus(P36 Pro LTE)
Itel Vision 1 (P36 Play)
Itel A12
Itel A23
Itel A11
Itel A13 Plus
Itel A20
Itel A55 LTE (L6003P)
Itel 1508
Itel 1513
Itel P11
Itel A33 (W5001)
Itel P36 (W6501)
Itel 1508
Itel 1513
Itel P11
Itel P12
Itel A33 (W5001P)
Itel A46 (L5503L)
Itel P33 (W5504)
Itel S15 Pro (L6002P)
Itel S15 (W6002)
Itel A14 Max (W4003)
Itel P15 (W5005P)
Itel A48 (L6006L)
InnJoo
InnJoo Halo X
InnJoo Halo Plus
Lava
Lava Atom 2X
Lava LE9920
Lava LH9810
Lava LH9910
Lava LN9820
Lava LN9821
Lava X11
Lava X19
Lava X41 Plus
Lava Z40
Lava Z51
Lava Z66
Lava Z61P
Lava Iris 51
Lava A93
Leagoo
Leagoo Alfa 4
Leagoo Alfa 5
Leagoo Z1
Leagoo Z5
Lenovo
Lenovo A1000
Karbonn
Karbonn Titanium Moghul
Karbonn K9 Smart Eco
Kenxinda
Kenxinda V6
Kenxinda V5
Kenxinda R7
Kiowa
kiowa X4 cristal
Fero
Fero A4001 plus 2019
FLY
Fly Life Ace
Fly Life Jet
Huawei
Huawei Honor Bee
HUAWEI Y3C (Y336-U02)
Gigabyte
Gigabyte GSmart Classic Joy
Logic
Logic X40
Jazz
Jazz Digit 4G Lite
Mascom
Mascom S500
Mobicel
Mobicel Star
Mobicel Rio SS
Movitel
Movitel M9106 (Boot Key – VOl+ & Vol- Simultaneously)
Micromax
Micromax Canvas Spark 3 Q385
Micromax ione
NEON
NEON RAY
Nokia
Nokia C1 TA-1165
Realme
Realme C21Y
Realme C11 2021 India
Samsung
Samsung B310E
Starlight
Starlight M06
Starlight M08
Starlight M09
Symphony
Symphony V100
Symphony V110
Symphony V28
Symphony i68
Symphony i98
Symphony V99+
Symphony i97
Symphony Z12
Symphony i74
Symphony i18
Stylo Shimmer
P24 Shimmer
Tecno
Tecno T920D
Telma
Telma F1 Max 4G
Qmobile
Qmobile M95
Qmobile LT110
Qmobile X36
Qmobile I7I
Qmobile W15
Qmobile I2
Qmobile I4
Qmobile W50
Qmobile Smart
Qmobile I7I PRO
Qmobile Fire
Wiko
Wiko Sunny 3
Wiko Sunny 2
Wiko Y80 (W-V720-EEA)
Wiko View 3 (W-V800-EEA)
Wiko W-K130-TMV
Wiko Y50
ZTE
ZTE S519
ZTE TMN EASY 11
ZTE Meo Easy 11
ZTE TMN 11
ZTE S521
ZTE S518
ZTE L110
ZTE L130
ZTE A3 2019
ZTE A3 2020
ZTE A5 2019
ZTE A7 2019,
ZTE V10
ZTE VITA
ZTE A7020RU
ZTE Blade L210
ZTE Blade L8
And many more models supported, just need to test and report back to us…